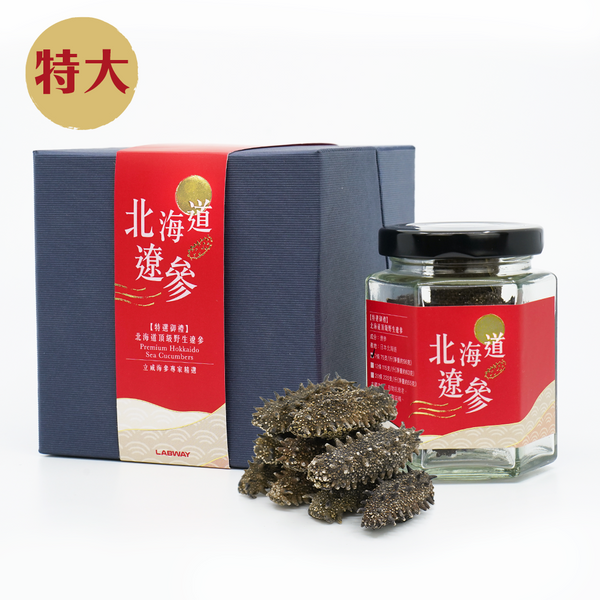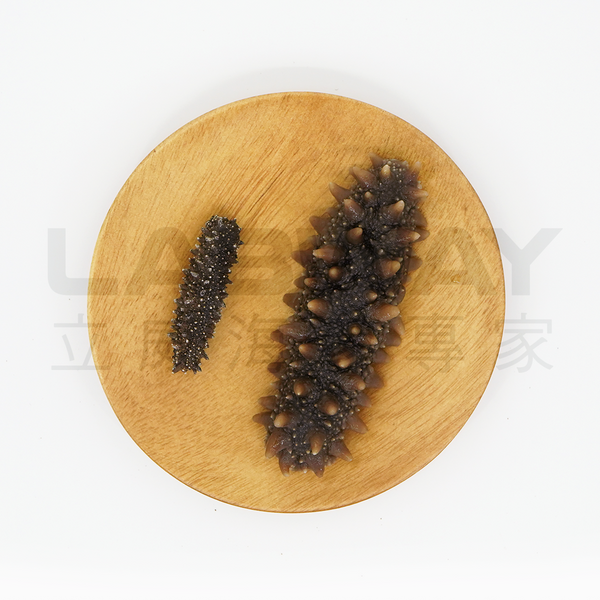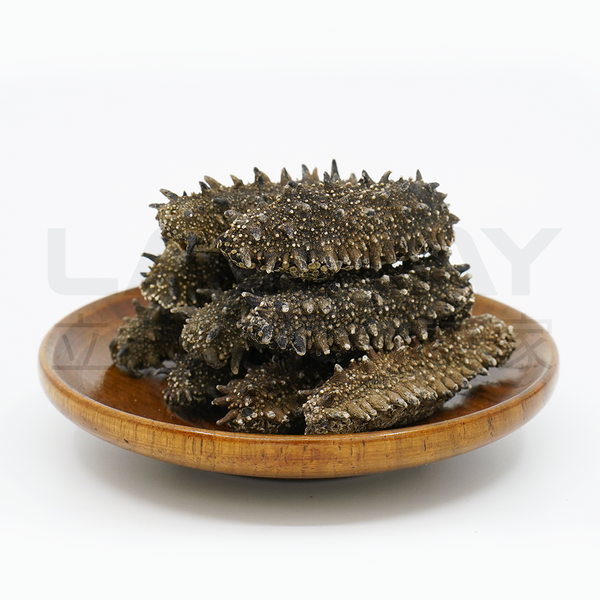 Premium Hokkaido Sea Cucumbers (7pcs 75pcs/catty)
Labway selects and imports the finest Hokkaido sea cucumbers, harvested in the freshest and coldest waters in Japan Sea, where this mixture of temperature and quality are tantamount to the sea cucumber's development of its famed thick meat, and crisp yet gelatinous texture. Our Premium Hokkaido Sea Cucumbers are customly packaged into 3 different sizes. Pick your size of the delicacy, while the perfect package alone speaks a thousand words as a gift of health to your beloved ones they'll love.

Sea Cucumbers' Health Benefits
Antioxidants for good health

Anti-aging, skin nourishing, essence-replenishing

Kidney-tonifying, energy enhancement

Facilitate recovery after treatment / pregnancy, postpartum support

Fight major illness

Strengthen immune system
Recommended Serving
1-2 pieces per meal. Savour everyday to boost your vitality.
Storage
Please store in a cool dry place. Store in the freezer (-18°C or below) after rehydrating. Can keep for one month.
Please Contact Us for wholesale or corporate purchase. We will contact you in person soon.
**We ship this product to Hong Kong ONLY. International delivery is unavailable for this product.
Precautions: If discomfort or hypersensitivity occurs, stop taking and consult your doctor. Please do not consume if the package is broken.


Content

Hokkaido Sea Cucumbers
7pcs 75pcs/catty (XLarge, Approx. 56g)
Origin
Hokkaido, Japan
Rehydration Steps
Rehydration Days: 4 Days
Day 1:
1. Soak the dried sea cucumbers in clean water for 5-6 hours. Rinse off the sand on the sea cucumbers' surface, then boil them for 10 minutes. Cover the pot and allow the water to cool down. Put the pot of sea cucumbers in the refrigerator overnight.
Day 2:
2. Replace with clean water, boil the sea cucumbers for 5 minutes. Cover the pot and allow the water to cool down.
3. Cut open the rehydrated sea cucumbers and rinse the insides. Keep the tendons which are rich in nutrients.
Day 2-4:
4. Replace with clean water, then put the pot of sea cucumbers in the refrigerator for 2-3 days until they become 3-4 times bigger in size. Replace with clean water at least once a day. Drain the sea cucumbers and store them in plastic wrap or zipper bags in the freezer. Can keep for 1 month.
Recommended Recipes
Defrost the frozen sea cucumbers. Recommend to serve as cold dishes, braise, soup or stir-fry.
BLOG POSTS