OUR BEGINNING: USING NATURE TO HELP US HEAL
Apart from being a Chinese delicacy, sea cucumbers offer many health benefits that may be the answer to many of the diseases and sickness we see today.
In 2016, Hong Kong sea cucumber experts Mr. Fung and Mr. Sit founded Labway Biotechnology Limited with a mission to harness and deliver the health benefits of sea cucumbers to the world.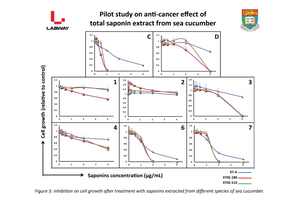 FIRST STEP: ANTI-CANCER PROPERTIES OF SEA CUCUMBERS
Research around the world shows overwhelming evidence that bioactives extracted from sea cucumbers combat certain diseases and we are still only scratching the surface of the numerous medicinal qualities hidden in these sea creatures.
In 2017, together with the University of Hong Kong, Labway discovered that certain species of sea cucumbers contain unique saponins that are significantly more effective in inhibiting certain abnormal cells than others.
MAKING SEA CUCUMBER AVAILABLE FOR EVERYONE, EVERYDAY
The founders didn't stop after the research was completed.
Knowing that most people don't have time to process nor eat sea cucumbers everyday, Labway partnered with the Hong Kong Institute of Biotechnology and developed the SC-3 Sea Cucumbers Capsules®, an all natural, saponin containing sea cucumber supplement that allows people to enjoy the health benefits of sea cucumbers in the most convenient manner. Take 2 capsules per day to strengthen your immune system, fight major illness and improve quality of sleep.
RESEARCH, RESEARCH, RESEARCH
Building on the success of the SC-3 Sea Cucumber Capsules®, Labway setup its research labs at the Hong Kong Science and Technology Park. We are looking forward to fruitful results from our continuous research on
Sea Cucumber's numerous health benefits
and to deliver them to everyone in the
most sustainable manner
.
INVESTING IN SUSTAINABILITY
Leveraging Hong Kong's special status as the world's centre of the sea cucumber trade, Labway strives to take the lead into promoting sustainability of sea cucumbers in Hong Kong.
Our goal is to build Hong Kong's first sea cucumber breeding and farming platform to develop and share our techniques and know-hows on sea cucumber aquaculture with the world to keep them sustainable for our future generations.