How can I register as a member?
Create a membership account by providing a valid email address.
** Existing customers or customers who have registered on the old website must register again to enjoy the membership rewards**
How to earn membership points?
Simple ways to earn membership points:
1)Earn 300 points upon Labway's membership registration
2)Earn 1 point for every HK$1 dollar spent
3)Earn 200 points for clicking "Like" to our Facebook page
4)Earn 200 points annually for birthday rewards
** Enter the date of birth to your membership at least 1 month before the birthday. Points will be added automatically to your account on the birthday **
What are the rewards?
Check the reward list out! The more accumulated reward points, the more vouchers you can redeem:
1)Redeem HK$10 voucher for 1,500 points
2)Redeem HK$50 voucher for 3,000 points
3)Redeem HK$100 voucher for 5,000 points
4)Redeem HK$200 voucher for 8,000 points
The vouchers are not limited to minimum consumption, expiration date or numbers of redemption.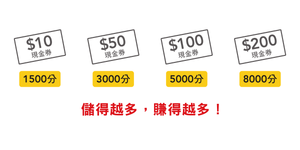 How can I redeem my points?
1)Click "Labway Rewards" from the bottom right corner on our website, select "Ways to redeem"
2)A yellow "Redeem" button will appear for rewards that have reached the target points. Please select the reward you want to redeem
3)After completing the redemption, click "Apply code" and the discount will be automatically deducted at checkout. Please note that each order can only use one coupon code at once

Refer a friend, earn bonus rewards!
As long as existing Labway members successfully refer a friend to register as a member and purchase any product in the Labway's online store, both parties will receive a HK$50 voucher. The steps are as follows:
1)Click "Labway Rewards" on the bottom right corner on our website, select "Referrals"
2)Share "Your referral code" to a friend, the referee will instantly get a HK$50 voucher. While the referee placed an order, you will also be rewarded with a HK$50 voucher
Can I redeem more than 1 reward at once?
Each order can redeem 1 reward only.
Can I combine my account or transfer my points to others?
Membership points and redeemed rewards in the account can only be used by the members and are non-transferable.
Labway Biotechnology Limited reserves the right of final decision on membership programme, promotion and all matters, and to amend any of these Terms and Conditions herein from time to time without prior notice.